Some people may believe that the prime of life happened in their twenties, but this is simply not true! We think that in our mid-thirties and after, the only options for clothing involve large pants, oversized shirts and comfortable, yet unattractive, dresses. The opposite is quite true! The prime of life occurs when you're confident in yourself and have finished experimenting and now ready to embrace the you that exists today and even during this upcoming New Year's Eve! It should be refreshing to know that there are many gorgeous New Years Eve Party dresses for women available to wrap you in glamour and style as you ring in a 2019 new year full of possibilities!
Plus Size Wrap Knee Length Party Dress
This fire-engine red red new years eve dress is sure to turn heads in 2019. The wrap style skater-type dress has a plunging neckline for those that are daring to show a bit more this New Years Eve. The 3/4's length almost long sleeve and knee-length is modest while serving to keep one warm on a colder winterish evening. The bow on the side sweetly accentuates the dress. It is advisable to use these with warm leggings and boots if the New Years Eve events are outdoors.
Short Plus Size Metallic Jersey Party Dress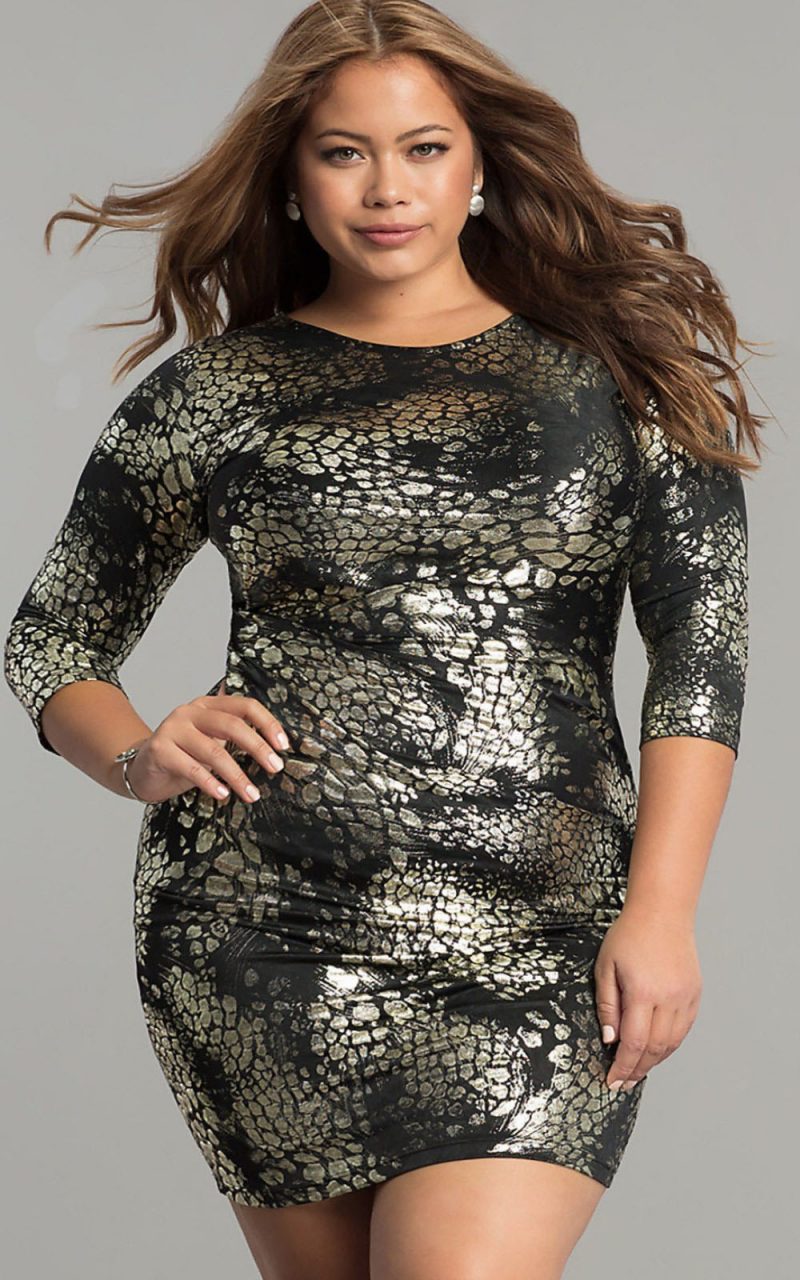 This short, sexy, snake-skin pattern metallic and black dress boasts a 3/4 sleeve and close neckline as it highlights a curve-hugging silhouette. These dresses for women are fitted, shiny and perfect when paired with silvery dress shoes or sleek winter boots. This dress does well without much accessorizing, as the pattern makes a huge statement without lots of distraction.
Long Strapless Elegant Black Cute Tulle Party Dress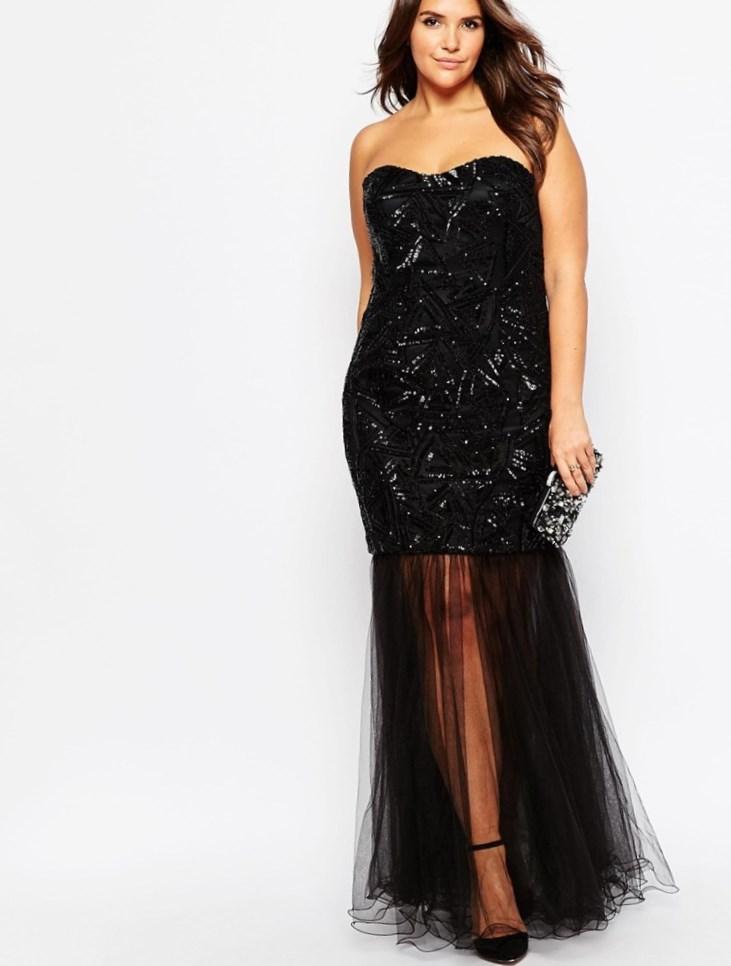 This glittering, strapless, black, full-length half party dress/half gown is unique in that the bottom length of the dress is long, elegant tulle that shows off your legs and shoes without leaving you entirely bare for the winter elements in 2019! A great accessory would be a smile and a glitter clutch silver purse. The movement of this dress will make you feel like a princess on New Year's Eve.
Slitted Long V-Neck Dark Blue Evening Plus Size Dress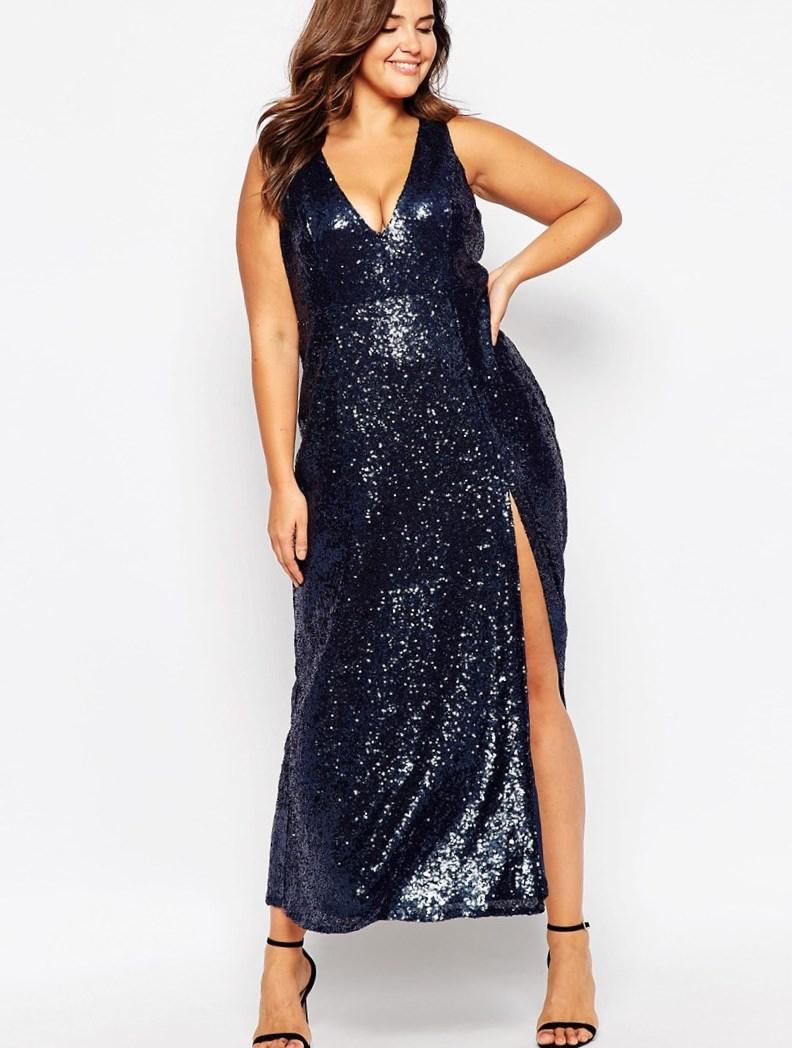 If you want to ring in the New Year feelings as glam and to twinkle as a bright, evening sky, this is the dress to wear. Reminiscent of a glittering sky against a blanket of galaxy blue, this high slit dress is for the woman who wants some attention on her legs and her chest, as the deep V-neck halter top style dress shows off great assets without being too clingy. Simple strapless shoes are a great addition to this bedazzling dress.
Silver and Black illusion Tulle Pleat Dress
This fabulous dress has a pleated style skirt that alternates between silver material and black gossamer tulle that shimmers with every movement. The top is sleeveless with an illusion like the neckline that is contrasted against the dark silver outline of the dress near the chest area. The fitted waist is sure to give that hourglass figure.
Short Navy Blue Sleeveless Dress
This short, Navy blue, Sequined, and glittering dress remind me of the daring era of women dancing around in flapper clothing. All eyes will be on this plus-sized dress that boasts high movement and energy with its alternating stripes of sequined navy blue segments and see-through tulle-like material. The fitted waist accentuates the bosom area, which is modestly covered up to a high, straight neckline.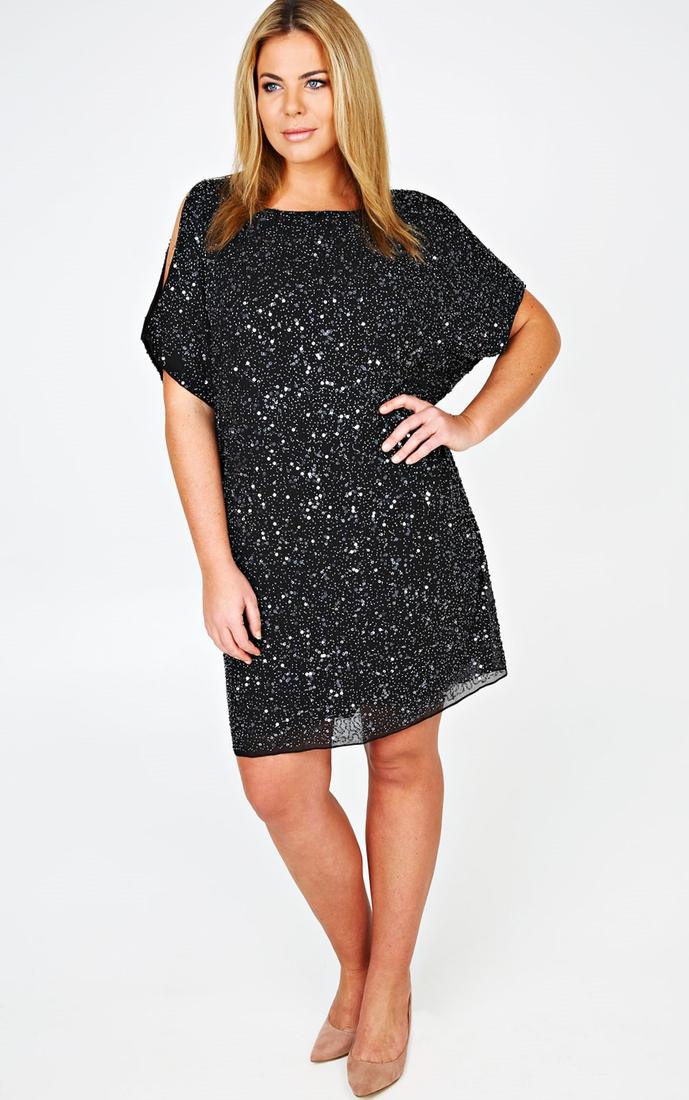 Pencil Style Skirt Dress with Lace Sleeves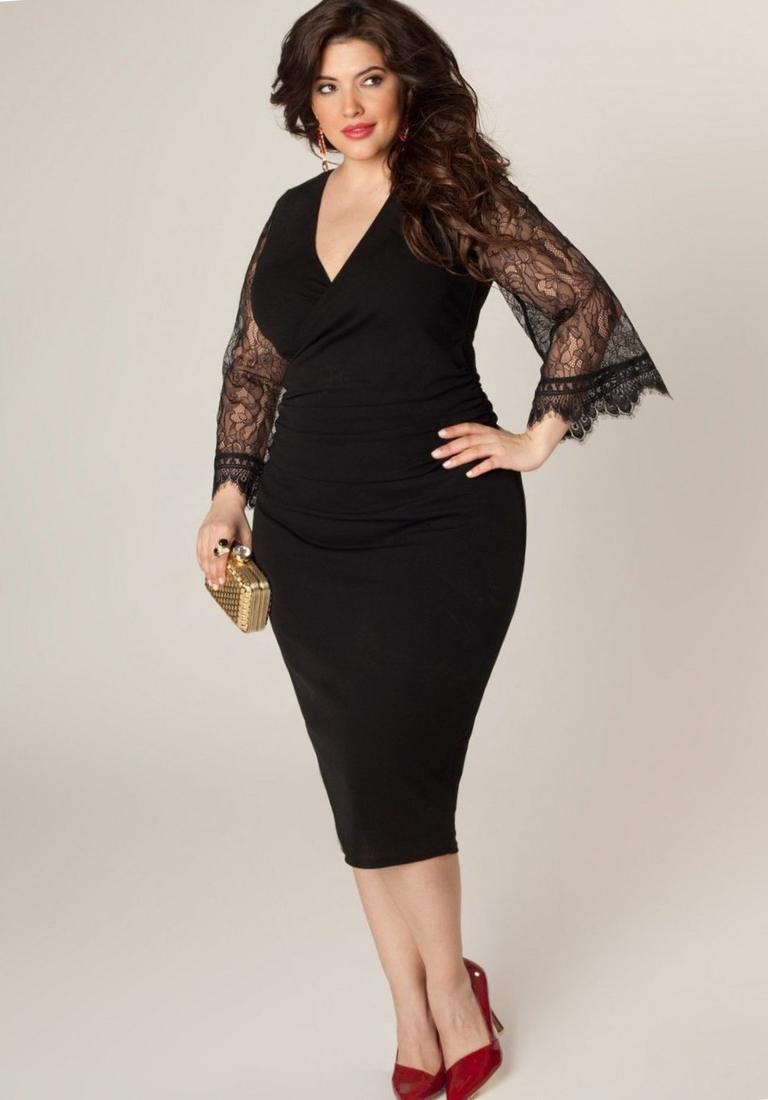 These fitted, gorgeous, black dresses for women are the best Little Black Dress for those plus sized divas who are wanting to cover up their arms a bit this New Years Eve. The dress has a not-so-plunging V-neck that is good for those who want to be a bit sexy this holiday season, but not over the top. The pencil style skirt length goes just past the knees and is accessorized beautifully with gorgeous red shoes to accent. The lace sleeves are about a 3/4 length and flare a bit while showing off some detailed lacework at the cuff.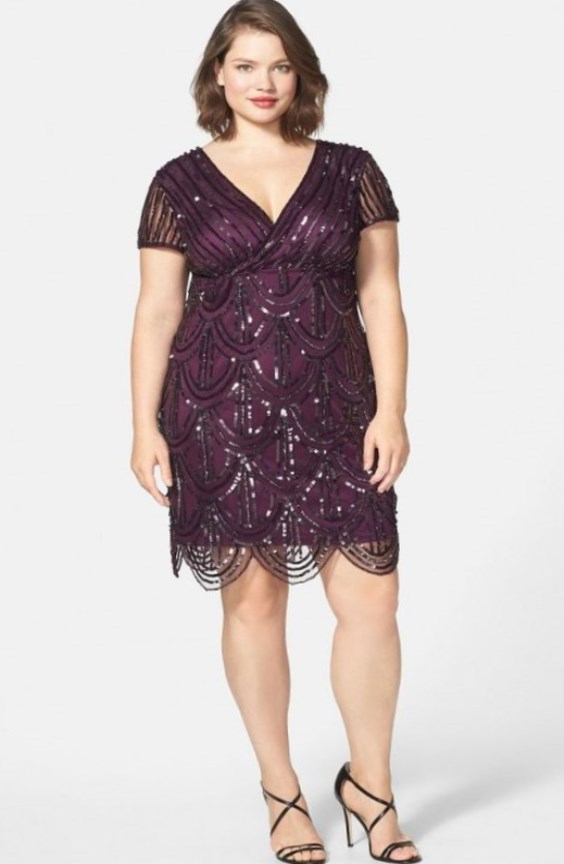 Baroque sequined plus size dresses with Sheath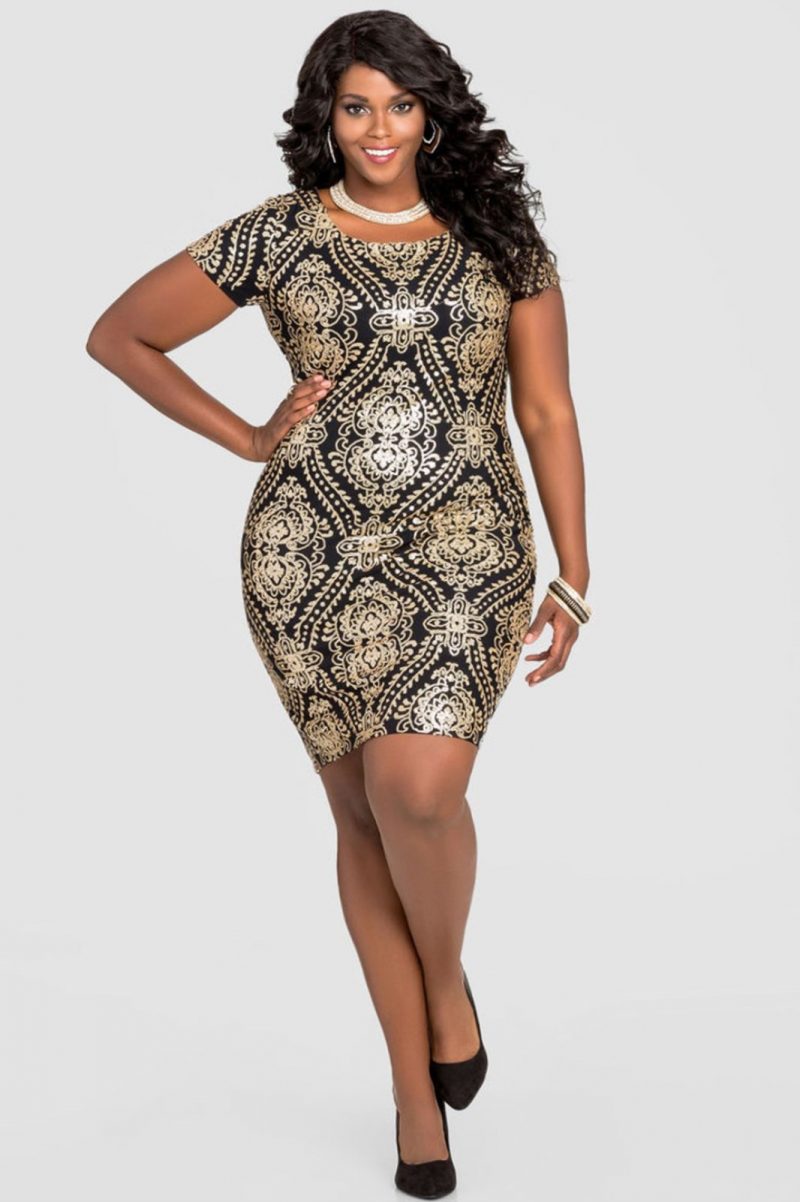 If you want to mix a bit of the Victorian Downtown Abbey vibe with the modern heat of sex appeal, this dress is it. The baroque design exudes elegance, as the length and fittedness ooze sexiness. The dress features a close straight neckline that covers the chest area and also short cap style sleeves.
Short Silver Cowl Style Dress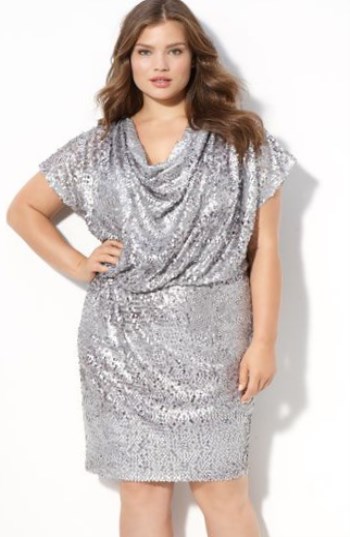 For those plus sized New Years divas who are interested in being comfortable and fashionable on New Years even, this silver party dress is the answer. The dress has a cowl style neck design that expands all the way from the shoulders to the waistline. A dress like this is sure to cover any areas that one doesn't want attention drawn to. The skirt portion of the dress reaches up to the knees and isn't wholly fitted, and it's also quite comfortable. The sleeves are quite short and have room for those with arms that a bit larger.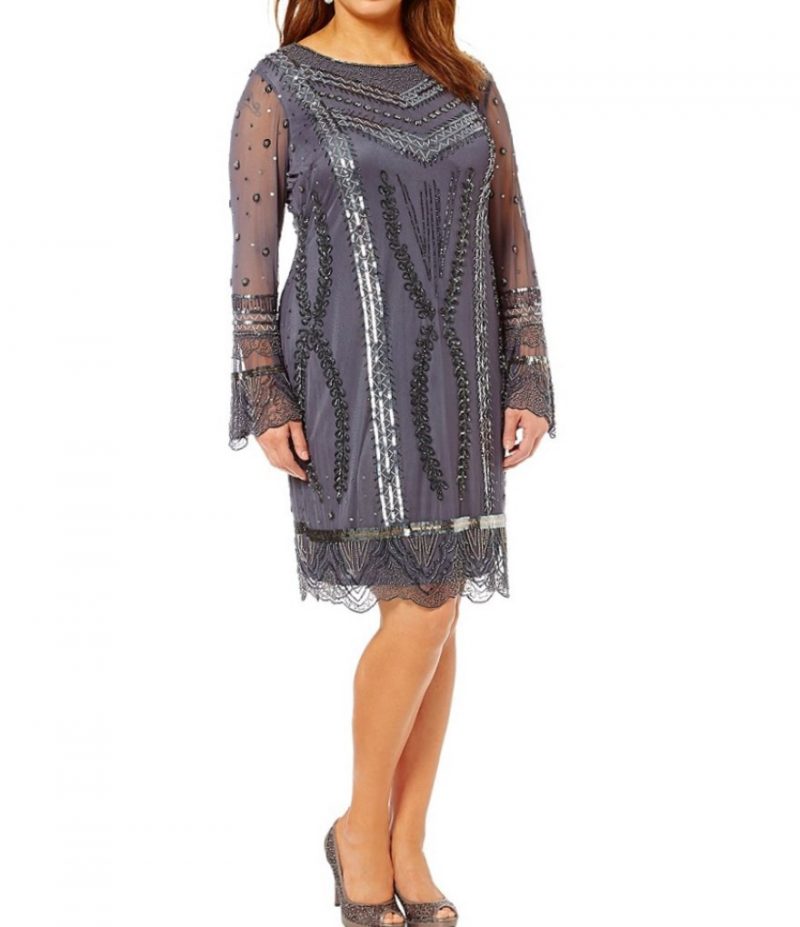 Plus Size Short Holiday Party Dress with Cowl Neck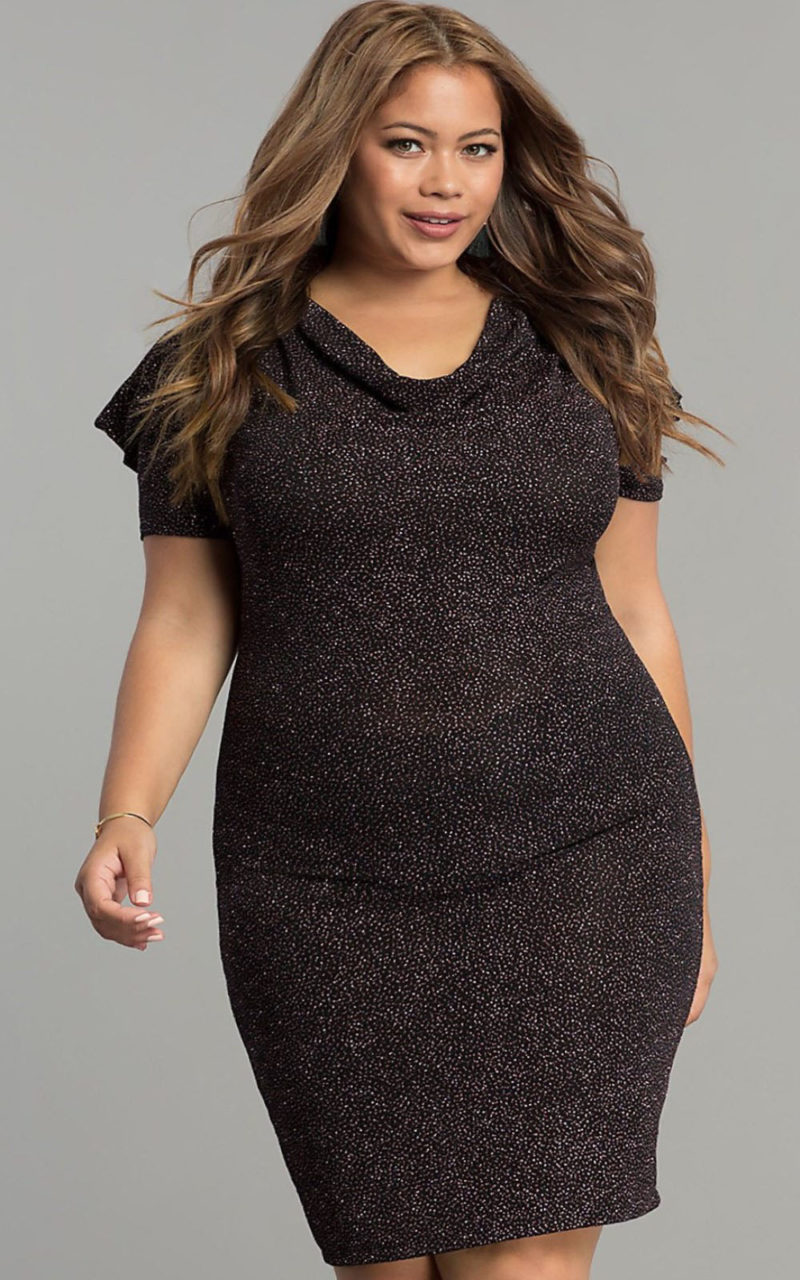 This is a black/brown metallic fitted dress with a pencil skirt style bottom. The cowl style is an excellent detail around the neck, and the sleeves are decorated with a bit of fabric that adds movement. This dress is great for those with an hourglass figure, as it hugs the curves tightly as you dance the night away on New Year's Eve. The black/brown color is subtle, warm, and inviting. The versatility of this dress is highly appealing, as it can transition from office to New Years Eve party with a few accessories.
Short Plus Size Sequin Holiday Party Dress
These foxy sequined dresses features a neckline and a sleeveless look with waist hugging material that flares around the legs with a medium slit. The dress is sparkly, black and catches flashes of light at each movement. A pair of stilettos and a confident smile make fashionable accessories to show off this fantastic dress.
Tadashi Shoji Plus Bell Sleeve Lace Sheath Dress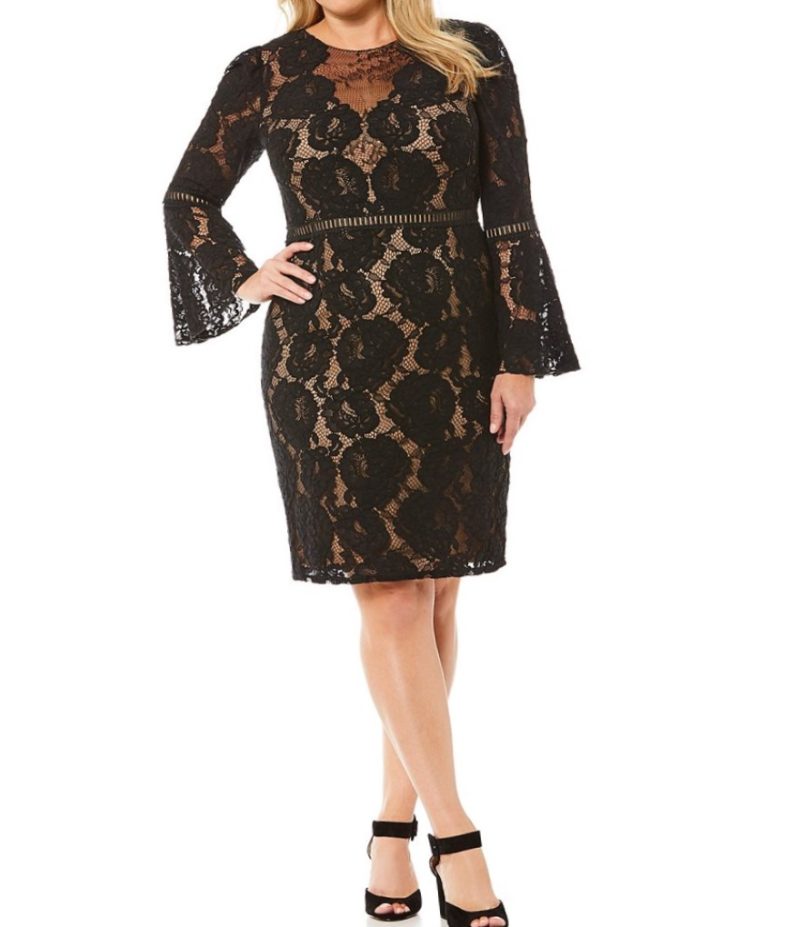 For those plus sized partiers who are interested in more modesty, elegance, and style, this beautiful bell sleeve dress features is the right dress! It also has an all over black lace that's draped over a nude colored dress bodice. The see-through is daring enough without showing too much skin. The higher illusion neckline tantalizes with a bit of teasing, and the bell sleeves exude elegance.
As a plus-sized woman, it's important to feel sexy, comfortable and elegant while ringing in the New Year in plus new years dresses. Black and gold colors, a bit of glitz, sequin dresses, cocktail dresses for big hips and big bust sizes are available at reasonable prices. These area some amazing ideas for dresses to wear for nye dresses 2019!